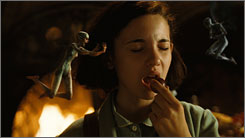 No higher resolution available.
Pan's Labyrinth employs some computer-generated imagery in its effects, but mostly uses complex make-up and animatronics. The giant toad was inspired by The Maze. Del Toro himself performed the noises. The mandrake root is a combination of animatronics and CGI. Del Toro wanted the fairies "to look like little monkeys, like dirty fairies", but the animation company had the idea to give them wings made of leaves.[19]
Jones spent an average of five hours sitting in the makeup chair as his team of David Marti, Montse Ribe and Xavi Bastida applied the makeup for the Faun, which was mostly latex foam. The last piece to be applied was the pair of horns, which weighed ten pounds and were extremely tiring to wear. The legs were a unique design, with Jones standing on eight-inch-high lifts, and the legs of the Faun attached to his own. His lower leg was eventually digitally erased in post production. Servos in the head flapped the Faun's ears and blinked the eyes, and were remotely operated by David Marti and Xavi Bastida from DDT Efectos Especiales while on set. Del Toro told Jones to "go rock star... like a glam rocker. But less David Bowie, more Mick Jagger".[19]
The Captain's room, as shown in the scene where Captain Vidal is shaving, is supposed to resemble his father's watch, which del Toro says represents his troubled mind.[20]
A bout of weight loss on Del Toro's part inspired the saggy-skinned Pale Man.[21] In order to see while performing the part, Doug Jones had to look out of the character's nostrils, and its legs were attached to the front of the green leotard which Jones wore.[22]
The film uses subtitles for its translation into other languages, including English. Del Toro wrote them himself, because he was disappointed with the subtitles of his previous Spanish film, The Devil's Backbone. In an interview, he said that they were "for the thinking impaired" and "incredibly bad". He spent a month working with two other people, and said that he did not want it to "feel like... watching a subtitled film".[23]
Pan's Labyrinth was premiered at the 2006 Cannes Film Festival on May 27, 2006. Its first premiere in an English-speaking country was at the London FrightFest Film Festival on August 25, 2006.[24] Its first general release was in Spain on October 11, 2006, followed by a release in Mexico nine days later.[24] On November 24, 2006 it had its first general English release in the United Kingdom; that month it was also released in France, Serbia, Belgium, Italy, Russia, Singapore and South Korea.[24] It had a limited release in Canada and the United States on December 29, 2006, in Australia on January 18, 2007, in Taiwan on April 27, 2007, in Slovenia on May 17, 2007 and in Japan on September 29, 2007.[24] Its widest release in the United States was in 1,143 cinemas.[25]
The film was released on DVD on March 12, 2007 in the UK by Optimum Releasing in a two-disc special edition. The film was released in the United States on May 15, 2007 from New Line Home Entertainment in both single-disc and double-disc special edition versions, featuring an additional DTS-ES audio track not present on the UK version. Additionally, the film received a special limited edition release in South Korea and Germany. Only 20,000 copies of this edition were manufactured. It is presented in a digipak designed to look like the Book of Crossroads. The Korean first edition contains two DVDs along with an art book and replica of Ofelia's key. The German special limited edition contains three DVDs and a book containing the movie's storyboard. Pan's Labyrinth was released for download on June 22, 2007 from Channel 4's on-demand service, 4oD.
High definition versions of Pan's Labyrinth were released in December 2007 on both Blu-ray Disc and HD DVD formats. New Line stated that due to their announcement of supporting Blu-ray exclusively, thus dropping HD DVD support with immediate effect, Pan's Labyrinth would be the only HD DVD release for the studio, and would be discontinued after current stock was depleted.[26] Both versions had a PiP commentary while web extras were exclusive to the HD DVD version.[27][28]
File history
Click on a date/time to view the file as it appeared at that time.
Ad blocker interference detected!
Wikia is a free-to-use site that makes money from advertising. We have a modified experience for viewers using ad blockers

Wikia is not accessible if you've made further modifications. Remove the custom ad blocker rule(s) and the page will load as expected.